A La Charm Strip Club
A La Charm Strip club is a high-end club in the heart of Hamburg widely recognized for its first-class erotic entertainment and almost legendary shower shows.
When entering into the Strip club you become part of an exotic, vibrant atmosphere full of glamour, life and temptation.
The welcoming large sofas comfortably position you to face the stage and allows you to enjoy the memorable sight of glamorous strippers gyrating their wet seductive bodies on the stage during a stunning shower performance.
The ambient lightning shifting between warm reds and marine blue wraps you in a world of secrecy and enchantment revealing  the marvelous curves of the performers and reflecting the vibrant, international flair of a metropolis.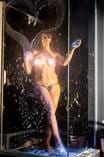 The well staffed bar offers a wide-range of choice from classical and high-quality spirits and breath-taking shows perfect for stag parties, entertaining business acquaintances and wild bachelor evenings, all tailored to your requirements.
But above all, this Strip club is exceptional for its transparent price policy offering high-class shows like the "Cream Show" or the popular "Strip and Streak" at amazing prices.
So, whatever the occasion, you are guaranteed real fun and an unforgettable experience.
The link to their web-site is:
Here you will find adress and all contact info for the club: https://stripclubguide.com/place/a-la-charm-club/
Letty
Author:
Letty
Letty is a passionate public relations and content development professional who has worked with some of the top newspapers and fashion magazines in the UK and Central Europe.
She is a great supporter of the strip industry as a way of empowering women and creating a better future for families, businesses and society in general. She also calls up for not holding back one's natural sexuality and sensuality and walk along the path of the legendary and provocative Hugh Hefner and Larry Flynt, both of whom have depicted that judgmental and hypocritical attitude toward sex and erotica in society leads to dissatisfaction, depression and overall fertility decline.
In her life and work, Letty loves taking on new challenges, and delivering big creative ideas that drive a positive change. She loves helping people to be the best they can and make the most of their lives.