Madam Amour
Standing proudly at the heart of Copenhagen, impressing with the enticing ambience of a Moroccan palace and the most enchanting and provocative girls, Madame Amour can truly exceed your expectations on every level.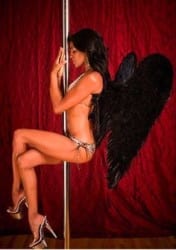 The club offers a one-time experience with its Live Striptease Cabaret Show, an exclusive, relaxing and friendly atmosphere and, of course, the hottest dancers in Denmark.
With an impeccable reputation for over a decade, Madam Amour is the club of choice for both customers and employees, offering an untapped earning potential along with a friendly environment.
Designed as a burlesque club, Madam Amour embodies a world of refined luxury with its soft shapes, crystal chandeliers, heavy curtains and thick carpets.
Spreading over 400 square meters, the mesmerizing world of Madam Amour has everything to offer for its customers- from private rooms to large VIP areas and exclusive VIP rooms where clients can enjoy a relaxing and invigorating experience. For additional comfort, the VIP rooms are equipped with a service button and VIP guests are entitled to a special treatment with complimentary cocktails and drinks.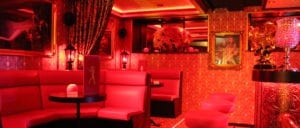 The stage is the home to what can boldly be defined as the club's premier attraction, the stars of the show-the glamorous and talented dancers. It's romantic burlesque design lets the customer's imagination run wild, with exciting live shows, pole dancing and cabaret style striptease.
The bar offers a sophisticated lounging experience and delivers a whole new level of excellence. From unrivalled cocktail and champagne collections to the seductive design of its space, the club is remaking the night out!
Madam Amour is the ideal destination to relax and enjoy a magic night out, bring your business partner or simply treat your loved ones with an unforgettable experience. For every occasion you may have, the club is well worth a visit.
For locations and contact info for the club, go to this link: https://stripclubguide.com/place/madam-amour/
Find out more on the club's website: http://madameamour.dk/
Author:
Letty
Letty is a passionate public relations and content development professional who has worked with some of the top newspapers and fashion magazines in the UK and Central Europe.
She is a great supporter of the strip industry as a way of empowering women and creating a better future for families, businesses and society in general. She also calls up for not holding back one's natural sexuality and sensuality and walk along the path of the legendary and provocative Hugh Hefner and Larry Flynt, both of whom have depicted that judgmental and hypocritical attitude toward sex and erotica in society leads to dissatisfaction, depression and overall fertility decline.
In her life and work, Letty loves taking on new challenges, and delivering big creative ideas that drive a positive change. She loves helping people to be the best they can and make the most of their lives.