I go to Strip clubs
For the past few years, "My Love Is Like…Wo" singer, Mya, has been spotted and photographed inside of several strip clubs. Sometimes she was singing on the stage while dancing on the pole and other times she was simply in the audience enjoying the view.
Strippers Regulatory bodies
This is her explanation as to why strip clubs are the definition of feminism,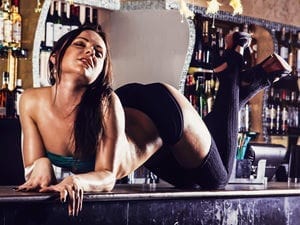 I go to strip clubs specifically to watch how powerful women are, and I'm a person that's observant of how she carries herself and [believes] women who are not strippers have power, too. I don't care what walk of life you're from; women are just naturally sexy and have an essence about them. Fully clothed and not clothed. If everyone breaks down their walls and stops putting themselves on holier than thou pedestals, we can all learn from each other. We all have different stories, different experiences, and different obstacles, so not only do I just watch and study, I also sit down and talk to people—strippers in general—to get their journey and back-story. I share a lot of the same walks and obstacles, and I saw myself relating to a lot of people that might appear broken. I'm always connecting with what society would label the outcasts and the weirdoes and the lost souls. It's strange, but I'm learning myself just by talking with people.
You can read more about the interview on:
http://xonecole.com/unapologetic-mya-talks-love-sexuality-why-she-finds-strip-clubs-empowering/
Author:
Letty
Letty is a passionate public relations and content development professional who has worked with some of the top newspapers and fashion magazines in the UK and Central Europe.
She is a great supporter of the strip industry as a way of empowering women and creating a better future for families, businesses and society in general. She also calls up for not holding back one's natural sexuality and sensuality and walk along the path of the legendary and provocative Hugh Hefner and Larry Flynt, both of whom have depicted that judgmental and hypocritical attitude toward sex and erotica in society leads to dissatisfaction, depression and overall fertility decline.
In her life and work, Letty loves taking on new challenges, and delivering big creative ideas that drive a positive change. She loves helping people to be the best they can and make the most of their lives.