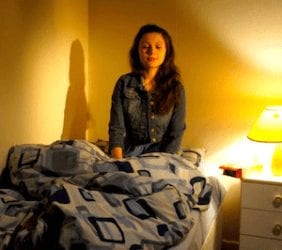 "Sick of life in a war-torn Croatia, guided by MTV hits and
Hollywood sitcoms, Stefica takes on a new name and embarks on a quest for an American education, and ends up in a Dublin lap dancing club. With frankness and humor, she teaches us the tricks of the trade and shares secrets she can't tell anyone else"
Tell us what the show is about Mirjana? The show is a modest representation of dancers from all over the world, how they travel and work hard to save money for their dreams. This piece is about so many things: growing up during communism, American TV,  taking risks, faith, becoming a woman, learning the tricks of the lap dancing trade.
Tell us how it all started?  I studied drama for four years during which I've started writing plays. I had many ideas but the one I actually knew the best was always at the back of my mind. 'The Broken Promise Land', a story about a girl who leaves her mundane job in a shopping centre to go on adventure to Italy, Japan, then Ireland.
When I told some friends' of my experiences they said I have to write it down as it is a brilliant story. It was a different piece of writing then, but when the director Aoife Spillane Hinks came on board the piece started to make shape.
The idea was to show dancers as normal people; modest women doing their job, working in a trade. Lap dancing is theatre and I feel it is a great training for a drama course or any other jobs in hospitality. To be a dancer, and a good dancer you have to be on the ball, proactive and ambitious.

What is the difference about this piece of writing compared to many other pieces about lap dancing? The difference is that it says it the way it is, without making women from Eastern Europe victims forced into the trade, but not glamorizing the job too much either, (the way some people imagine that every day in a dancer's life is champagne, fun and frolics.)
It is a job, a trade, you have to work hard, look after yourself, stay fit, feel good about yourself so others can too. Some women are just so good at it and they do it for the love of it and would not do anything else. For someone who is shy, it can be a way of emancipation, growing up and becoming a woman comfortable in own skin.
I didn't intend to say that the piece is based on real experiences at first, I didn't know how will people react. A year later, after 35 performances I can say that all I am getting are fantastic responses.
If you wanna see the show, go to;
'Broken Promise Land' One Woman Show
Etcetera Theatre; London; 22nd -24th August @3.30 pm
020 7482 4857
Author:
Saxon
Strip-magazine.com is covering the European Striptease industry with monthly updates on or famous London Gossip, Interviews with industry people, articles and news from the world of striptease. We also offer a Striptalk forum, Industry Directory with Stripclubs and Agents and a Job board for the Striptease industry in Europe.