Burlesque cabaret that includes wheelchair striptease
Subjects related to sex can feel awkward for anyone, but when people with disabilities express their most intimate needs, it often feels unsurmountable.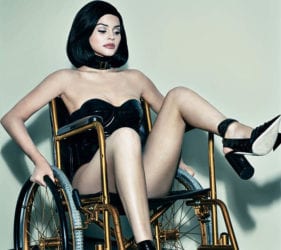 To break the taboos and free humanity from prejudices, a group of performers with disabilities will bare their hearts and bodies in a new burlesque cabaret that includes a wheelchair striptease.
The show brings together comedy, sequins and silk gowns to reveal a topic considered 'underexposed' by the ones involved.
"We have a libido like everybody else," said Andrew Vallance, 35, who will host the show that opens this week in Vancouver.
"But there's a whole load of prejudice and institutional barriers that prevent us from expressing our sexualities. It's about time we knocked those barriers down."
The show called 'Sexy Voices', will run for three days starting from Thursday. It will fearlessly 'thrust sex and disability into the limelight', said Artistic Director Rena Cohen.
Along with being entertained, Ms. Cohen hopes the audiences will acknowledge that many people with disabilities are denied sexual identity, ranging from overt stigma to incidentally being perceived as not having the capacity for intimacy.
The stories on stage will range from racy and sexually explicit to quite sweet, director Rachel Peake said. The goal is to portray people with disabilities as three-dimensional through the illumination of their sex lives, she said. Burlesque performer Suzie Malone
Read more on: http://www.theglobeandmail.com/news/british-columbia/wheelchair-burlesque-aims-to-strip-down-stigma-sex-up-disability/article29987021/
Author:
Letty
Letty is a passionate public relations and content development professional who has worked with some of the top newspapers and fashion magazines in the UK and Central Europe.
She is a great supporter of the strip industry as a way of empowering women and creating a better future for families, businesses and society in general. She also calls up for not holding back one's natural sexuality and sensuality and walk along the path of the legendary and provocative Hugh Hefner and Larry Flynt, both of whom have depicted that judgmental and hypocritical attitude toward sex and erotica in society leads to dissatisfaction, depression and overall fertility decline.
In her life and work, Letty loves taking on new challenges, and delivering big creative ideas that drive a positive change. She loves helping people to be the best they can and make the most of their lives.