Golden Girls Club
Truly world famous, situated in Moscow's heart, Golden Girls club embodies the pulse of the capital's nightlife.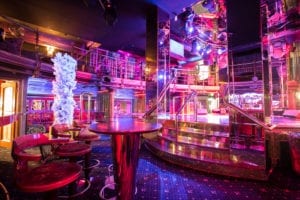 The clubs unique atmosphere is an authentic mixture between old and new, reviving the glory of ancient times with its amphitheatre like surrounding and blending it with the comfort and mesmerizing effects of modern day design.
Luxurious, but not pompous interior, beautiful actresses of flirt, celebrity guests and heart-stopping show program altogether create the unique spirit of 'Golden Girls' club.
When you enter the premises, you could spot a beautiful guest room situated on the ground floor with eight inviting lodges each one of which could sit up to ten people. A La Charm Strip Club an enchanting world of fantasy
Four VIP lodges are available for private entertainment, each of them decorated in a unique themed design-Louvre, Old-club, Leopard and Central. There are also seven additional private rooms, where you can relax and enjoy an erotic dance from the most enchanting and seductive girls in Moscow.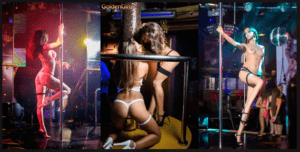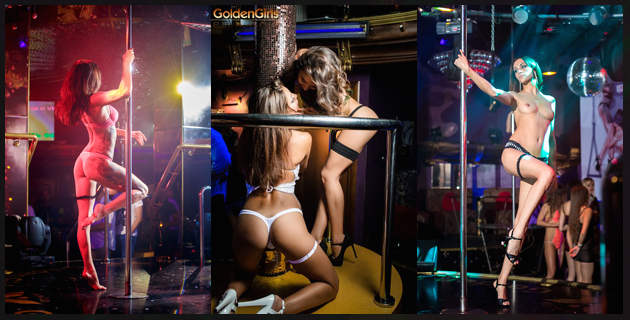 Show program with more than 50 dancers
The show program performed by over 50 dancers is simply legendary. There, the art of stripping is taken to a whole new level, the way you saw it in your wildest dreams, best Hollywood movies and shows.
And, in contrast to many erotic dance clubs, 'Golden Girls' are never afraid to experiment with show formats. The program includes a daring variety of shows; from speech to circus, from dancing to musical and, of course, the most fascinating burlesque shows in Europe. And all of them accompanied by a firework of erotic performance. The Shocking History of striptease
The shower cabin is one of the main show-stoppers, where a stunning girl-the live embodiment of your dreams, performs an exotic dance under the water streams to the delight of all guests.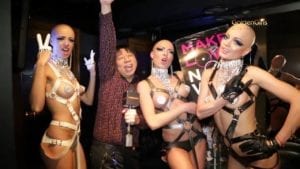 The music ranges from soul-touching ballads to the loved retro, from latest dancing hits to classics.
Golden Girls club is the ultimate destination for nightlife entertainment where arts, erotic, glamour and style all intermingle to create an unforgettable experience.
Whatever you are looking for-a relaxing and joyful night out or breaking the ice with new business partners-Golden Girls has something special for every occasion.
Visit the clubs web page here: http://www.goldengirls.ru/english/
You can also see this months featured video from the club here.
Author:
Letty
Letty is a passionate public relations and content development professional who has worked with some of the top newspapers and fashion magazines in the UK and Central Europe.
She is a great supporter of the strip industry as a way of empowering women and creating a better future for families, businesses and society in general. She also calls up for not holding back one's natural sexuality and sensuality and walk along the path of the legendary and provocative Hugh Hefner and Larry Flynt, both of whom have depicted that judgmental and hypocritical attitude toward sex and erotica in society leads to dissatisfaction, depression and overall fertility decline.
In her life and work, Letty loves taking on new challenges, and delivering big creative ideas that drive a positive change. She loves helping people to be the best they can and make the most of their lives.