Pentagon reps use government charge cards at strip clubs
Pentagon officials allow their subordinates to use government charge cards on strip clubs and casinos, a new report reveals. The expenses amount to nearly $100, 000 at strip venues and "adult entertainment establishments" and almost $1 m at casinos, all those money being spent without serious reprisal.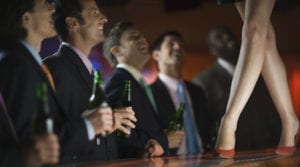 Government charge cards primary purpose is to cover the expenses incurred for official government business. It seems though that government business is taking on new heights as the report finds that Pentagon officials not only did get away with using their cards in clubs and casinos but also "did not consider the security implications of improper personal use of the travel card"
The report reveals that the Pentagon has allegedly experienced "potential national security vulnerabilities" by supervisors' due to "insufficient notification of the improper expenses".
The inspector general first discovered the casino and adult entertainment expenses on official government travel cards in 2015, and decided to conduct a new inquiry to discover how superiors held their subordinates accountable for the incurring costs. The inquiry found defense department personnel charging the government for 900 "adult entertainment transactions" amounting to $96,576; and 4,437 casino transactions totaling $952,258.
Read more on: https://www.theguardian.com/us-news/2016/aug/30/pentagon-officials-strip-clubs-casinos-misuse
Author:
Letty
Letty is a passionate public relations and content development professional who has worked with some of the top newspapers and fashion magazines in the UK and Central Europe.
She is a great supporter of the strip industry as a way of empowering women and creating a better future for families, businesses and society in general. She also calls up for not holding back one's natural sexuality and sensuality and walk along the path of the legendary and provocative Hugh Hefner and Larry Flynt, both of whom have depicted that judgmental and hypocritical attitude toward sex and erotica in society leads to dissatisfaction, depression and overall fertility decline.
In her life and work, Letty loves taking on new challenges, and delivering big creative ideas that drive a positive change. She loves helping people to be the best they can and make the most of their lives.