Dancer makes $30,000 in one night in a new strip club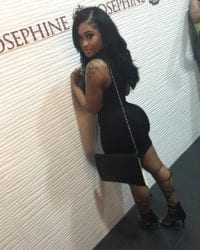 It's not surprising that 1600+ women showed up for auditions when T.I's new Atlanta strip club opened its doors. The club is named V Live Club and the lucky dancers who got selected are reaping the benefits from performing in front of A-list clients.
According to witnesses, a dancer named Zylah made $30,000 in just one Saturday night performing in front of a group of NBA players.
Girls like Zylah here are walking out the club with a down payment on a suburban Atlanta home featuring 6 bedrooms, 10 foot ceilings, 8″ wide antiqued pine floors and an in-ground pool with a slide. All in a night's work.
Read more on: http://www.hotnewhiphop.com/a-stripper-at-tis-v-live-club-reportedly-made-s30-000-in-one-night-dancing-for-nba-players-news.23143.html?
Author:
Letty
Letty is a passionate public relations and content development professional who has worked with some of the top newspapers and fashion magazines in the UK and Central Europe.
She is a great supporter of the strip industry as a way of empowering women and creating a better future for families, businesses and society in general. She also calls up for not holding back one's natural sexuality and sensuality and walk along the path of the legendary and provocative Hugh Hefner and Larry Flynt, both of whom have depicted that judgmental and hypocritical attitude toward sex and erotica in society leads to dissatisfaction, depression and overall fertility decline.
In her life and work, Letty loves taking on new challenges, and delivering big creative ideas that drive a positive change. She loves helping people to be the best they can and make the most of their lives.