Former teacher facing two years in jail for seducing a pupil
A disgraced teacher who confessed to sleeping with a teen pupil hundreds of times after seducing him with raunchy selfie could be facing jail. Mary Beth Haglin admitted having sex with the 17-year-old-boy on an almost daily basis for half a year.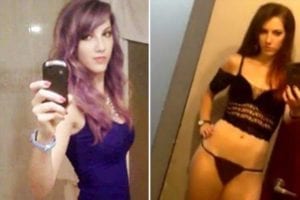 Some of the snapshots 24-year-old Haglin was sending to the pupil in order to seduce him, showed her in nothing but a sheer top, bra and g-string.
The teacher who has been banned from practicing her profession from Washington High School in Iowa when the affair was revealed has later become a lap dancer under the stage name Bambi. If the ex-teacher gets convicted of exploiting the boy, she could be facing up to two years in jail. However, she has since appeared on programmes including The Dr Phil Show and Inside Edition where she claimed she is the victim rather than the offender and that it was the student who had seduced her.
She said: "The student is the one who seduced me. He did so with such intelligence and such an elevated vocabulary that I was completely duped by the whole facade."
Haglin claimed the teen penned heartfelt notes and texts aiming to entice her, taking advantage of her vulnerability that followed from a difficult relationship with her boyfriend.
The current lap dancer added: "He caught me in my weakest moments, and he used that to his advantage.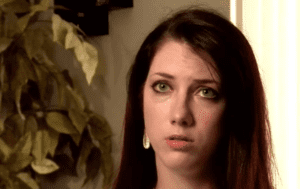 "I did ignore a lot of that at first because obviously, I knew that it was illegal, not allowed, frowned upon – everything."
She went on to tell the TV therapist: "We had sex – almost daily – in his car, my car, his mom's house, and his dad's house.
"When things got way out of control, and I wanted out, he began saying 'I will light a match and burn your life down.'"
Haglin also insists she fell in love with the teen after he seduced her
She said: "I was completely head over heels.
"He would come into my classroom, grab a Post-It, write something and stick it to my desk on his way out.
"One read, 'I love you so much, my empress.'"
In return for the notes she sent the boy sexy snaps showing her posing in racy underwear.
The affair ended when another pupil saw them together.
She was sacked from her role at George Washington High School and was arrested in July after turning herself into police.
While the age of consent in Iowa is 16, Haglin was charged because she was in a position of authority.
She will be sentenced on February 17 and could be jailed for a maximum of two years or fined up to $6,250. She must also register for 10 years as a sex offender.
Prosecutors Heidi Carmer and Monica Slaughter said they were satisfied with the verdict as they left the Linn County District Court hearing.
Haglin and her lawyer Katie Frank declined to comment.
Read more on: http://metro.co.uk/2016/12/18/teacher-had-sex-wtih-pupil-she-says-seduced-her-through-post-it-notes-6330264/
Author:
Letty
Letty is a passionate public relations and content development professional who has worked with some of the top newspapers and fashion magazines in the UK and Central Europe.
She is a great supporter of the strip industry as a way of empowering women and creating a better future for families, businesses and society in general. She also calls up for not holding back one's natural sexuality and sensuality and walk along the path of the legendary and provocative Hugh Hefner and Larry Flynt, both of whom have depicted that judgmental and hypocritical attitude toward sex and erotica in society leads to dissatisfaction, depression and overall fertility decline.
In her life and work, Letty loves taking on new challenges, and delivering big creative ideas that drive a positive change. She loves helping people to be the best they can and make the most of their lives.