After Dark Gentlemen's Club
Nestled at the heart of Bergen, famous for its sophisticated atmosphere, stunning dancers and mesmerizing shows, After Dark has been at the top of Norway's nightlife scene for many years.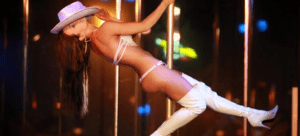 Stepping inside its magical world, you become mesmerized by its relaxed yet sophisticated atmosphere and enjoy the company of enticing and beautiful dancers carefully selected from all across Europe and Norway.
After Dark is nothing like your typical Norwegian lap-dancing club. Being Western Norway's only Gentlemen's Club with live-shows on stage 6 days a week, After Dark offers unparalleled service, luxury and discretion to make your stay simply unforgettable.
Its licensed bar offers some of the finest selection of wines, beers and spirits and has longer opening hours than most establishments in Bergen (5am Friday and Saturday and 4am on weekdays).
The club's seductive hostesses can also perform at your private party in the club and on location, so if you have planned an event, After Dark Gentlemen's club has spectacular entertainment lined up for you.
So, whatever the occasion-a birthday, stag party or simply a night out, After Dark premier gentlemen's club is always well worth a visit.
You can visit the clubs website here: http://www.afterdark.no and also learn more about the clubs contact info here:
https://stripclubguide.com/place/dark-gentlemens-club/
Author:
Letty
Letty is a passionate public relations and content development professional who has worked with some of the top newspapers and fashion magazines in the UK and Central Europe.
She is a great supporter of the strip industry as a way of empowering women and creating a better future for families, businesses and society in general. She also calls up for not holding back one's natural sexuality and sensuality and walk along the path of the legendary and provocative Hugh Hefner and Larry Flynt, both of whom have depicted that judgmental and hypocritical attitude toward sex and erotica in society leads to dissatisfaction, depression and overall fertility decline.
In her life and work, Letty loves taking on new challenges, and delivering big creative ideas that drive a positive change. She loves helping people to be the best they can and make the most of their lives.